WELCOME to HARDWARECITYTOOLS


Makers of Replacement Knobs & Handles/Totes for Most Planes
Made by Bill Rittner







Specializing in Stanley Lie-Nielsen and Veritas Bevel Up Planes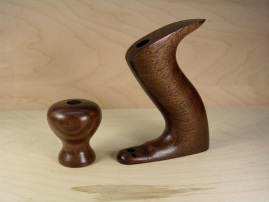 These knob & tote sets are for the buyer who appreciates top quality and is willing to pay a fair price for it. My knob and tote sets are not reproductions or replicas of the Stanley knobs and totes, but are a completely new design with the flavor of the early Stanley wood sets. The latest tote design is the result of several years of research and testing. Many prototypes were produced and sent to professional woodworkers for testing and evaluation before a final form was selected. I went back to the early Stanley sets, types 1 thru 5 and studied the shapes and angles. These early Stanley totes were hand shaped for smootness of form and comfort in use. I took the best points from Stanley's early designs and moved forward from there. My totes are thicker than either the Stanley's or any of my competitor's. Like the very early Stanley totes my totes have an elliptical cross section and are hand shaped for smoothness of form and comfort in use. Unlike the originals or my competitor's my totes require 5/4 rough stock to produce while theirs use only 4/4 rough stock. After all of the milling, drilling and machine shaping it takes two hours of rasping, filing and sanding to P400 to get my knobs and totes ready for the final finish. The standard woods are cherry and walnut.
See what others have to say
here
,
here
and
here
.
I have made knobs and totes for many other brands of planes. Contact me for your needs.
---
All Products are 100% Guaranteed for Your Complete Satisfaction
I will also be selling antique and vintage woodworking and machinist's tools such as planes, (metal and wood), chisels, handsaws, combination square sets, tri squares, bit braces, bits and the like. From time to time I will also offer restored planes, chisels with custom cocobolo handles and handsaws. Please checkout my blog and come back often.